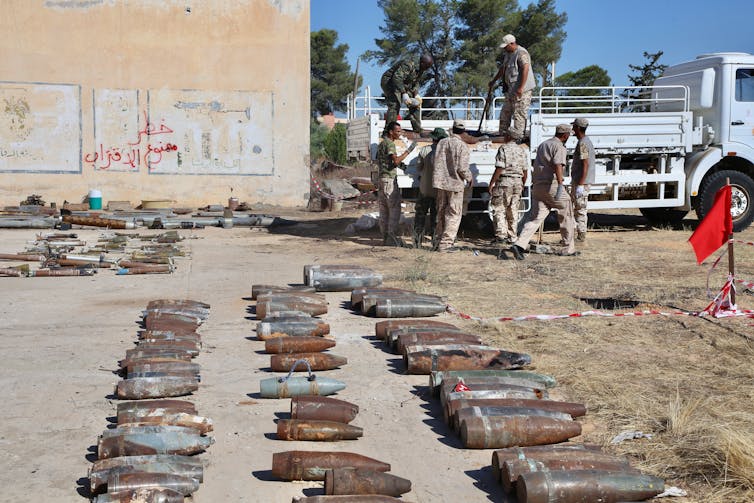 Oluwole Ojewale, Institute for Security Studies
The brief rebellion led against the Kremlin by the head of the Wagner mercenary forces in Russia last week sent shock waves across the world.
This was no less true in Africa, where some countries have, over the last decade, turned to the Wagner group for security support.
Many states in Africa are contending with multidimensional insecurity. This includes violent extremism, terrorism, insurgency, banditry, communal clashes, sea piracy, separatist violence, kidnapping and oil theft. Non-state actors have entered the scene as security providers.
As a coordinator of observations of organised crime in central Africa at the Institute for Security Studies based in Dakar, Senegal, I believe the recent events in Russia could have three implications for African countries that depend on non-state armed groups for security. These are: rebellion, increased human rights abuses and insubordination to state military authorities.
African countries engaged with Wagner, and with Russia, should take heed. The aborted Wagner rebellion offers distinct lessons for African countries that have invited mercenary troops onto their soil.
Private armies might sometimes prove effective in the battlefield. And militias might be useful in intelligence gathering. But the inability of state authorities to bring them under control casts serious doubt on their overall usefulness.
African states should rather take full responsibility for their security sector reform. This must include repositioning their military and law enforcement agencies to respond effectively to internal and external security challenges.
Non-state actors
African countries have come to depend on non-state actors like Wagner for security in three ways:
co-option of militia groups by the state

the voluntary incursion of vigilante groups into the security space as service providers

state partnership with private military mercenaries.
As security nosedives, some governments have co-opted militia groups to strengthen the state security architecture.
There are a number of examples.
In 2015 the Nigerian government awarded a multi-million naira contract to Oodua Peoples Congress, an ethnic militia, to secure oil pipelines.
Seven years later the Nigerian Senate lent legislative support to the N48 billion pipeline surveillance contract awarded to Global West Vessel Specialist Limited. This is a private maritime security firm founded and owned by Government Ekpemupolo. He was the former commander of the Movement for the Emancipation of the Niger Delta, popularly known as Tompolo.
These contracts were akin to handing over national assets to armed gangs for protection. They were an affront to the Nigerian constitution, which empowers the law enforcement and security agencies as ultimate providers of security.
Voluntary policing to fill the vacuum left by the state is another example. A recent study showed that where people feel insecure and unprotected, they find innovative ways of responding to crime. Some rely on private security and others, especially the poor, rely on community vigilantism. Kenya is an example.
My recent study showed that vigilantes performed strategic duties in Nigeria's north-west. They repelled attacks from bandits, rescued kidnap victims and arrested criminals. They also sometimes participated in joint security operations with the police and army.
Borno state has used the Civilian Joint Task Force and hunters to complement military efforts in counter-terrorism operations. They are on government's monthly payroll.
Wagner's involvement fits into the third category: state partnership with private military mercenaries.
Wagner has been operating in over a dozen countries in Africa.
In Mali, the state opted to partner with it for security provision. This was prompted by heightened insecurity, diplomatic rows with the peace-keeping mission and the ejection of foreign counter-insurgency forces.
In the Central African Republic (CAR), the mercenaries reportedly started operating in 2018. This was after the government and Moscow agreed to exchange Russian military support and weapons for mining concessions.
In late 2020, CAR's security situation deteriorated ahead of general elections. Wagner's role switched from support and training to combat.
In 2019 Wagner fighters were deployed to Mozambique to help contain Islamist militants operating in the northern Cabo Delgado province.
Implications
The Wagner rebellion in Russia has three possible implications for African countries.
Rebellion: States in which the Wagner group is operating could witness armed rebellion. In some, the military and police have already ceded critical security operations to the group. For instance, in the CAR, Wagner mercenaries permeate all levels of the country.
Increased human rights abuses: There's the potential for an increase in human rights abuses and impunity. In countries with Wagner footprints, relevant agencies are increasingly impeded from monitoring and reporting on abuses in areas of Wagner's operations.
A human rights investigative mission conducted by the UN in Mali has provided strong evidence that more than 500 villagers were killed by Malian troops and Wagner mercenary fighters.
In the CAR the Armed Conflict Location & Event Data Project has recorded 180 civilian targeting events involving Wagner mercenaries since December 2020.
Insubordination to military authorities: The Wagner rebellion unfolded in Russia partly to resist an attempt by the Russian defence ministry to bring the group under state control.
This bodes ill for most African states in which Wagner operates. In most, the country's army is subordinate to the mercenary group. The rebellion by Wagner against the Kremlin shows the group can support discordant elements in weaker African states to subvert democracy.
In addition, non-state armed groups could draw their cue from the Wagner group and become unaccountable to the military.
What's next?
African countries that have invited the mercenary troops in should review their security architecture. This must begin with a decoupling of their security policies and operations from mercenaries and non-state security service providers.

Oluwole Ojewale, Regional Coordinator, Institute for Security Studies
This article is republished from The Conversation under a Creative Commons license. Read the original article.